SALON ZWEI – PASSAGEN // Design Parcours Ehrenfeld
Im Rahmen der PASSAGEN Interior Design Week Köln und DESIGN PARCOURS EHRENFELD präsentieren wir seit 2014 niederländisches Design vom Feinsten.
– – –
During PASSAGEN Interior Design Week Cologne and DESIGN PARCOURS EHRENFELD we present Dutch Design at it's best.
2020 DUTCH DESIGN COLOGNE revisited | 2019 JENNA POSTMA | 2018 NORD INTERIOR DESIGN + FOEKJE FLEUR | 2017 MO MAN TAI | 2016 HOUSE OF THOL| 2015 STUDIO LORIER | 2014 SIBA SAHABI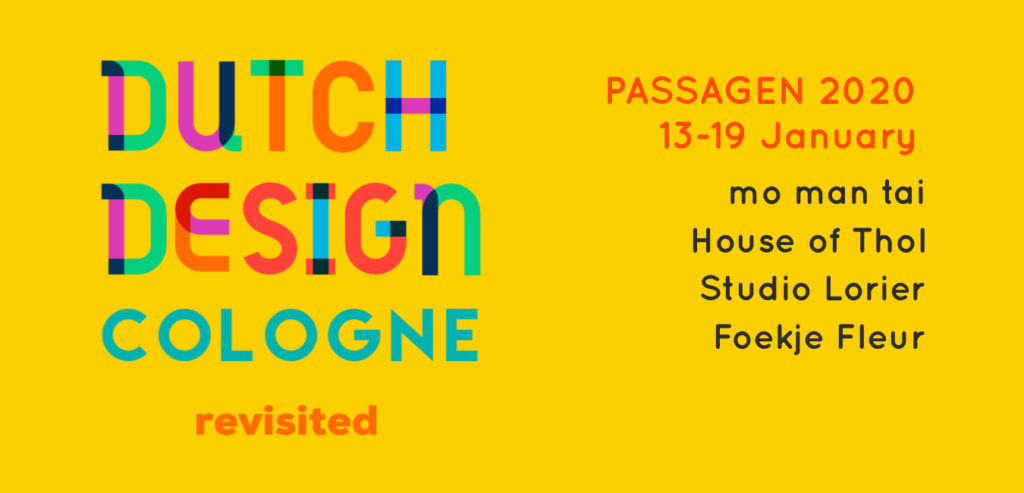 2020 SALON ZWEI – 6 Years of Dutch Design:
DUTCH DESIGN COLOGNE revisited
Das Projekt "Dutch Design Cologne Revisited" zeigt im SALON ZWEI und auf der DESIGNERS FAIR vier niederländische Designer*innen und Gruppen, die Claudia Schaaf aus dem Programm der Dutch Design Week Eindhoven heraus kuratiert und während der letzten sechs Jahre in ihrem Ehrenfelder SALON ZWEI jeweils zu den PASSAGEN präsentiert hat. Die erste Retrospektive dieser Serie wird, mit Unterstützung des Königreichs der Niederlande, von Claudia Schaaf und Sabine Voggenreiter präsentiert.
– – –
At SALON ZWEI and DESIGNERS FAIR, the Dutch Design Cologne Revisited project will be showcasing Dutch designers and groups, which were curated by Claudia Schaaf from the programme of Dutch Design Week Eindhoven, and shown in her Ehrenfeld-based SALON ZWEI for the last six editions of PASSAGEN. Featuring both new and familiar objects, the first retrospective of this series is supported by the Kingdom of the Netherlands.
WHEN & WHERE
>>> find our event on FACEBOOK here
>>> download the PASSAGEN programm and citymap here
DUTCH DESIGN COLOGNE revisited
Open 13 – 19 January
@ SALON ZWEI
Gutenbergstr. 2
50823 KölnEhrenfeld
Mon-Fri: 12:00 – 19:00
Sat-Sun: 12:00 – 16:00
Music & Drinks on Thursday 16.1 from 18:00
@ DESIGNERS FAIR | Pattenhalle
Christianstr. 82
50825 Köln-Ehrenfeld
Open 13 – 19 January
Mon-Wed: 12:00 – 20:00
Thursday: 12:00 – 23:00 | Drinks from 18:00
Fri-Sat: 12:00 – 20:00
Sunday: 12:00 – 18:00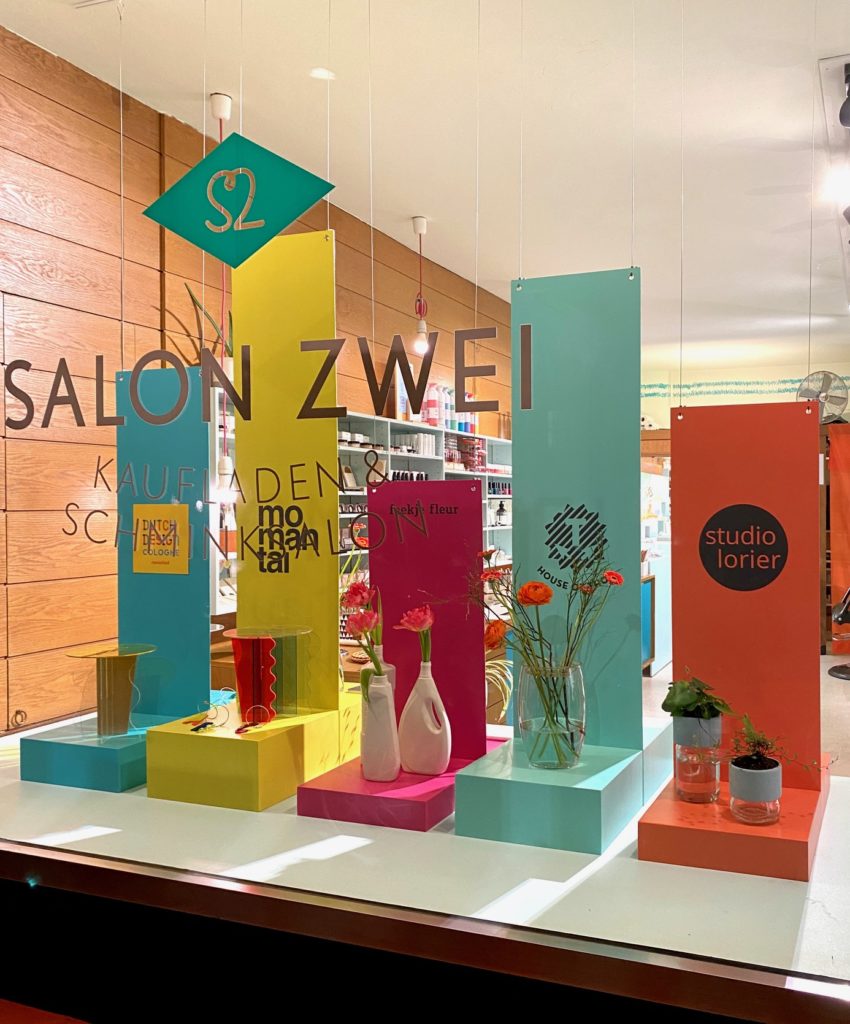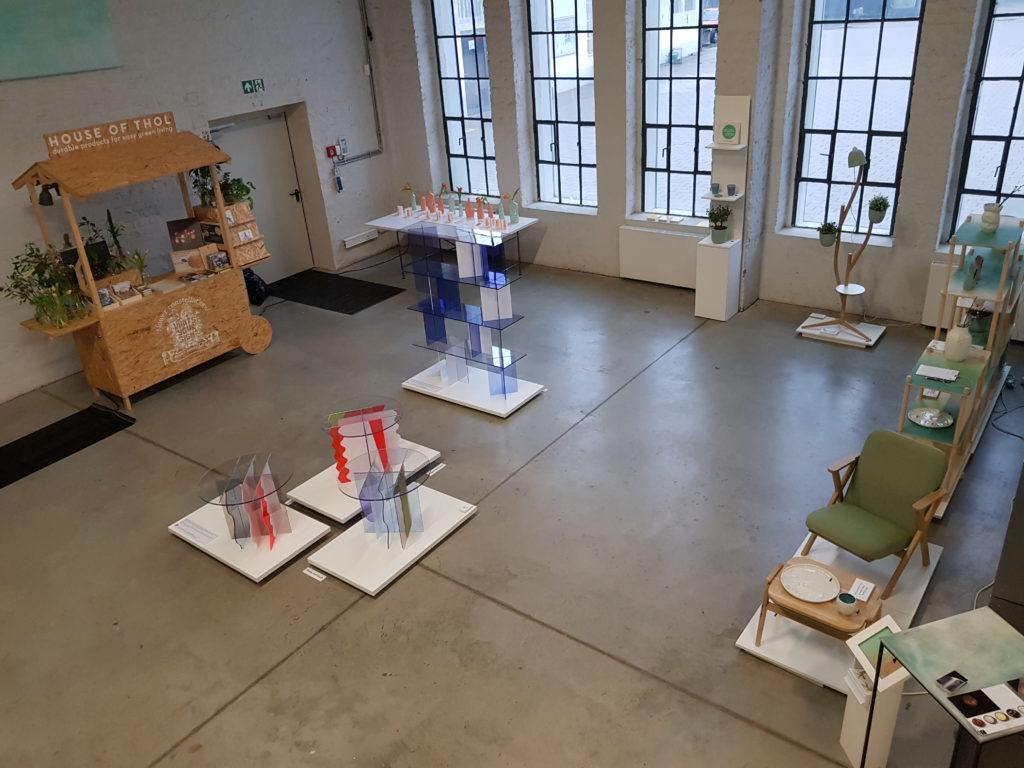 2019 SALON ZWEI – Dutch Design #6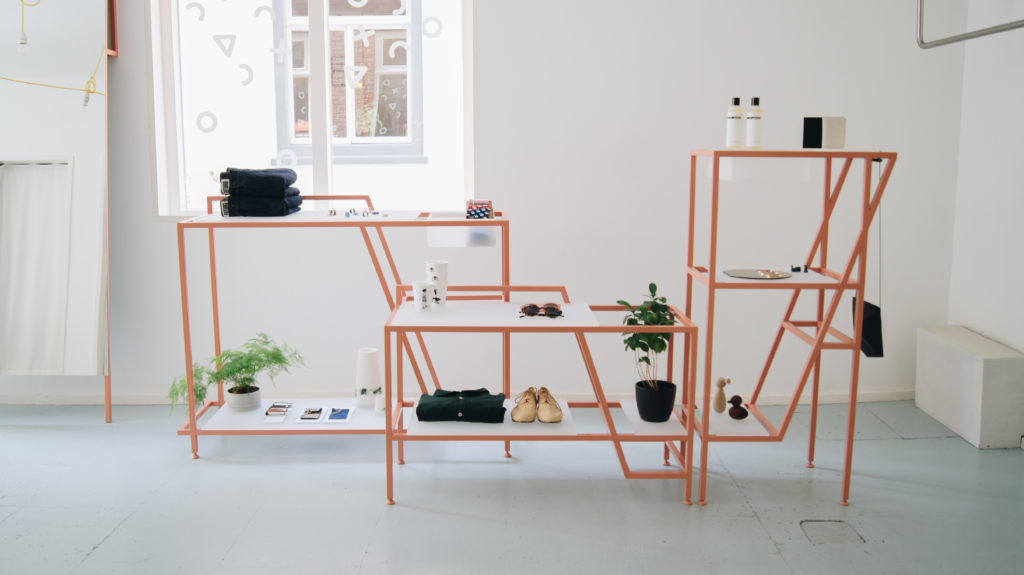 Jenna Postma präsentiert ihre Kollektion von grafischen Interieur-Produkten. Ihr Design vereint Minimalismus, klare Linien und eine spielerische Herangehensweise mit viel Liebe fürs Detail.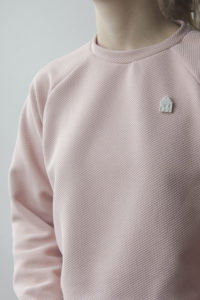 Jenna Postam presents a collection of graphic interior products. Together they create an interplay of lines. Playful products with a passion for details.
2018 SALON ZWEI – Dutch Design #5
PASSAGEN-PRIZE 2018
Unser beiden Designerinnen wurden für den PASSAGEN-Preis 2018 nominiert.

Der Minimalismus von Nord Interior Design trifft auf die zarten, organischen Akzente von Foekje Fleur. Weniger ist schön.
Nord Interior Design's minimalism meets Foekje Fleur's delicate organic accents. Less is beautiful.
www.nordinteriordesign.com www.foekjefleur.com
2017 SALON ZWEI – Dutch Design #4
Designerin Ulrike Jurklies überlässt ihren Kunden oft die letzten Handgriffe und sorgt so für ein Gefühl von Do-it-yourself.
Designer Ulrike Jurklis often leaves the finishing touches to her customers, thus creating a DIY feeling.
www.momantai-design.nl
 2016 HOUSE OF THOL – DUTCH DESIGN #3
House of Thol aus Zandvoort präsentiert zeitgenössisches Design für den Alltag, gefertigt mit Liebe zum Material und
Handwerk.
House of Tholfrom Zandvoort showcase contemporary design products for everyday use, manufactured with passion for
the material and the craft.
www.houseofthol.nl
2015 STUDIO LORIER – DUTCH DESIGN #2
Sander Lorier (Rotterdam) zeigt seine verspielte Design-Kollektion – fokusiert auf Funktionalität, Stil und Kreativität.
Sander Lorier (Rotterdam) presents a playful design collection, focussing on functionality, style and creativity.
www.studiolorier.com
Sander Lorier (Rotterdam) zeigt seine verspielte Design-Kollektion – fokussiert auf Funktionalität, Stil und Kreativität.
Sander Lorier (Rotterdam) presents a playful design collection, focusing on functionality. style and creativity.
www.studiolorier.com
2014 SIBA SAHABI – DUTCH DESIGN #1
Siba Sahabi (Gerrit Rietveld Academy Amsterdam) zeigt Filz- und Lichtobjekte – poetisches Design zwischen Orient und
Okzident.
Siba Sahabi (Gerrit Rietveld Academy Amsterdam) presents felt and light objects: poetic design between orient and occident.
www.sibasahabi.com